Cartoon Caption Winner: Something Seems Afoul
Our feathered friends featured in our March cartoon caption contest sure had Dark Reading readers' eggscited. Dare we say some turned out to be real comedi-hens? DR editors flocked around the many caption submissions, took a vote, and the winner is ... Symantec technical writer John-Paul Power.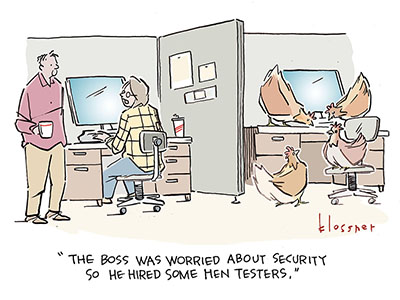 Congratulations! A $25 Amazon gift card is on the way.
John Klossner has been drawing technology cartoons for more than 15 years. His work regularly appears in Computerworld and Federal Computer Week. His illustrations and cartoons have also been published in The New Yorker, Barron's, and The Wall Street Journal. Web site: ... View Full Bio